Limited Edition - Twin Towers Pin, Pentagon Pin and Flight 93 Pin -
24kt Gold plated and black enamel. Military clutch back.
Gift boxed in plastic display case with clear top and black back.
This is a great gift set. Memorial Pin SET for all 3 tragedies of 9-11-01, including a memorial pin for the heros on flight 93.
It is a very LIMITED EDITION SET in 24kt Gold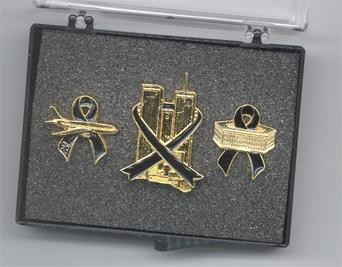 Buy It NOW! $34.99


---

Firemen Brass Pin $4.99


Flight 93 American Hero's Pin $8.99


Osama Wanted Dead or Alive $ 6.99

USA Awareness Flag Ribbon Enamel $ 6.99


American Flag Lapel Pin $ 4.99


BOOKMARK THIS PAGE!


.